Microsoft released Cumulative Update 11 for Exchange Server 2019 (KB5005334) on September 24, 2021. Also known as Exchange Server 2019 CU11. This Cumulative Update includes fixes for nonsecurity issues and all previously released fixes for security and nonsecurity issues. These fixes will also be included in later Cumulative Updates for Exchange Server 2019.

How to update Exchange Server 2019 to CU11?
It's recommended to update the Exchange Server in a non production enironment for testing before deploying it to your production servers.
Download Cumulative Update CU11 for Exchange Server 2019 (KB5005334)
Install Cumulative Update Exchange 2019
Cumulative Update CU11 for Exchange Server 2019 is released as version 15.02.0986.005.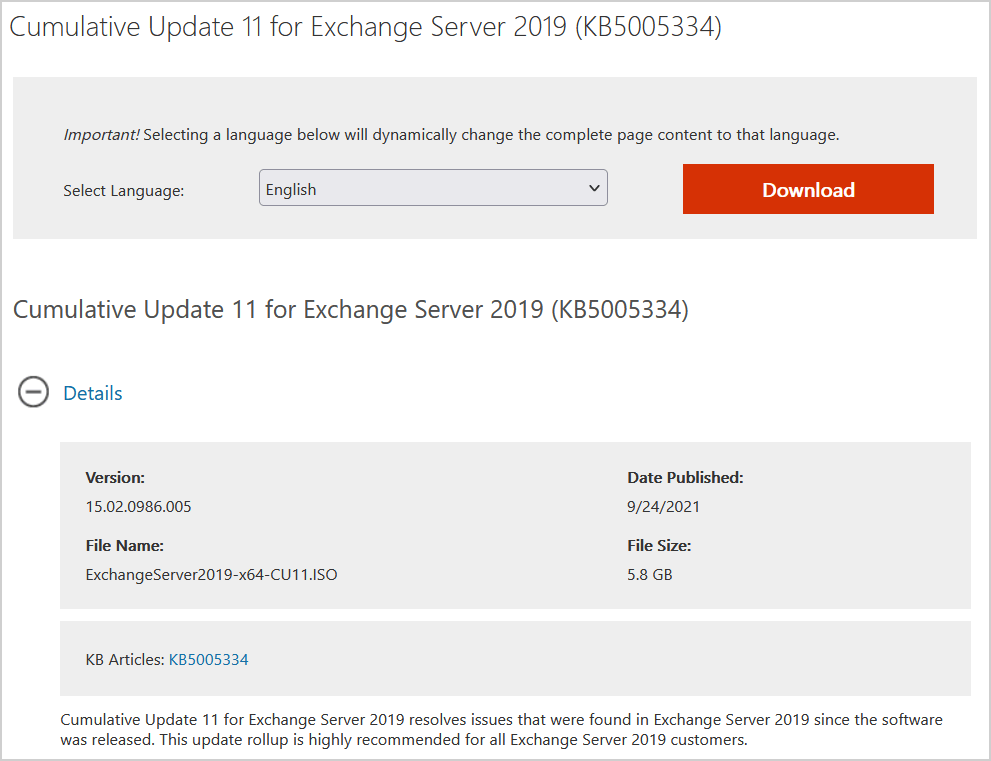 Known issues in Cumulative Update 11
AIn multidomain Active Directory forests in which Exchange is installed or has been prepared previously by using the /PrepareDomain option in Setup, this action must be completed after the /PrepareAD command for this cumulative update has been completed and the changes are replicated to all domains. Setup will try to run the /PrepareAD command during the first server installation. Installation will finish only if the user who initiated Setup has the appropriate permissions.
Issues fixed in Cumulative Update 11
This Cumulative Update fixes the issues that are described in the following Microsoft Knowledge Base articles:
File hash information
File name: ExchangeServer2019-x64-cu11.iso
SHA256 hash: 79F87AAD53E9A633291ADDEFB14DB574BACB673C784CED67C606A7356D215771